About us
Hypnotherapy in Horsham and West Sussex with AbsoluteU and Nicole Wetherell Qualified Hypnotherapist C.Hyp,D.Hyp,CNLP. AbsoluteU is a practice that provides Hypnotherapy in a secure and conductive manner to resolve any issues you may have. We can help in many areas including stop smoking, lose weight, overcome fears and phobias, addictions, stress, depression, confidence, hypnobirthing and childbirth, insomnia,ocd,ibs and many more.
Customer Testimonial
"Hypnobirthing made me feel so more relaxed and in control with my second pregnancy. It provided me with the confidence to go within my body and trust my natural instincts. It also gave me an inner peace which made bonding and getting to know my new baby a much more enjoyable experience. It also gave me the ability and confidence to respond to my new world with two children and all the emotions and responsilbilities attatched, an altogether different experience to the first time round. Nicole has a natural ability through her calming and comforting manner and her carefully planned and thought out sessions which reassured me everytime.E.M" "Hypnobirthing to me is something that all women should be made aware about when embarking on this truly magical journey of bringing new life to the world.E.M"
Testimonial on behalf of AbsoluteU Clinical Hypnotherapy
Customer Testimonial
"I couldn't wait to tell you how much difference you have made to me. Since you hypnotised me for my fear of flying, I have flown three times. Firstly, I went by plane to Venice and back on a cruise without any problems and managed to stay calm and almost enjoyed the flight. I also had a day trip which involved getting in a cable car and I am proud to say that I got on the cable car without any problems both up and down. Since this holiday I have flown two more times and this summer I am planning to fly to Crete. The world is my oyster now, thanks to you. I really can't thank you enough and would like to wish you every success, you deserve it." A.S.
Testimonial on behalf of AbsoluteU Clinical Hypnotherapy
Testimonials are added by the business owner and are not independently verified.
Hypnobirthing Open Evening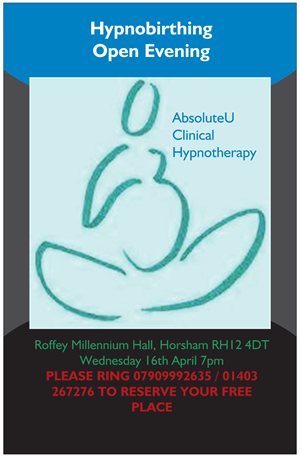 AbsoluteU are having a free Hypnobirthing evening for upcoming parents on Wednesday 16th April at 7pm at Roffey Millennium Hall, Horsham RH12 4DT.. Please call 07909992635 / 01403 267276 to register your FREE place or email info@absoluteu.co.uk. Find
16/04/2014, starts at 7pm
FREE